International show, Tallinn
yetrix007
The first day we participated as guests and where just practicing. The energy Aslan had, was great to the very end and then some. No sign of fatigue anywhere.
He had to stay behind; tied to the wall beside my Finnish friends while I showed their Dane in the breed ring and group (some vocals at first, but it got better every time). He has some issues with some stairs but, considering that he moved up and down without me carrying or pulling hem on unstable building stairs he was great! He got over he's fear on he's own making the right conclusions (but he would not have come without the lead, although he came on the loose one). After coming out of the show he run off some of the stress gathered inside, made quite a marathon in my eyes but he's contact was great outside. He just fell in love with Danes, it was all he could do to impress a Dane lady, acting like a real playboy.. after a while all Danes where of great interest to hem, male or female:)
On the corner peeking: Tera, Aslan waiting by the ringside
photo by Lea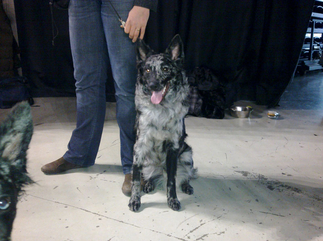 On the second day he started to show signs of energy going down with sitting (that he didn't decide to do the first day unless told to or me heaving him to my lap) and at the final quarter he even vent to lie down (but still had the good drive in movement). But, of course, he still had energy for play and still interest in speeding in the movement.
The show
He's movement in the show ring was excellent, smooth and well balanced and he was sweet enough to let me guide hem to the show stand and stayed in it quite nicely (or enough for me anyway). I was quite sure the judge would find some of the faults I thought I was seeing at this stage of development in the front part, but no- he only saw great potential, gave excellent review and Aslan was (in the glory of solitude) BOB puppy and went to represent the breed in the BIS puppy of the day. Now.. he moved great with good contact and lead control in the practice ring but, I took wrong speed in the BIS ring and he went out of control speeding off and scratching the floor doing it (like the wheels on the car on ice or sled dogs when starting the movement).. I thought all heard the sound of he's nails and thought, why did I do this, what an idiot! As the next was almost right behind me I decided not to take the time and repair the movement and of course it cost us a beautiful presentation. I was so disappointed in myself, but still the last quarter (behind the judge) he moved ok, not great but ok and he stood although quite restlessly it was very ok (showed some energy and a bit of nervousness) sadly, the next dog didn't leave enough room between us and they where quite close so that's why the nervous head movements and some repairs in stance.
He's reactions to sounds where not great during the show (jumpy) and to other dogs it was puppy like – play and interest, so the dog behind us was a real distraction :)
Good experience though, I know what to learn from it at least and you, be ready for the next time ;)
Our review:
Excellent type, excellent proportion, nice head, typical expression, good top line and angulations, excellent balance in side movement, good coat, good perspective.
Judge: Igor Selimovic, Croatia
BOB Puppy, speshial prize

Photo by: Jaanika/Maarja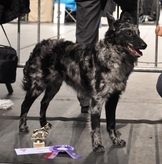 Foto: Livia (koertekoda)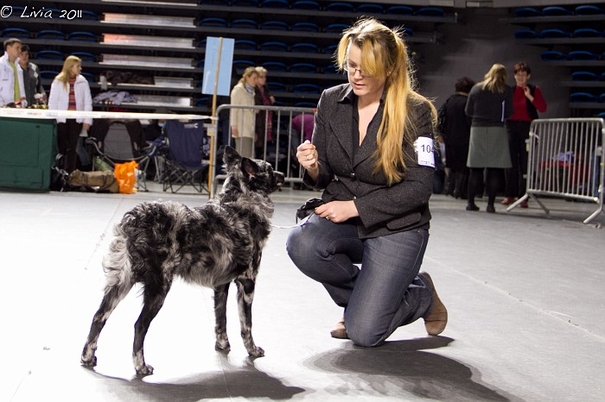 photo: Jaanika Topkin